NETx hotel solution
Integrated Hotel solution for any type of hotel project including management dashboard and control platform for all relevant hotel departments
Lighting – heating – cooling – air conditioning – blinds & curtains - courtesy panel considering occupancy – hotel PMS information
Integrated solution for guest satisfaction and comfort - Advantages for hotel owners, facility manager, etc.

Guest Room Management

Lighting Control
Climate Control
Shading
DND/MUR
Presence/Absence
Bedside panel & WA
Software for hotel building from NETx

Gateway to all LMS & BMS hardware
Gateway to PMS/door lock
Room control for hotel guest on Mobile
Visualization for hotel staff and guests
Master supervision for complete hotel buildings
Guest Entertainment App

IP TV - multiple Interface available
1. Optimized guest comfort, security.
2. Connected services offering enhanced efficiency of overall management of the hotel building, hence reducing operational cost.
3. Single vendor point of contact for guest room hardware and software need.
4. Integration of all main services e.g. BMS/Fire/Access/Door Lock/PMS under one system
5. Unified master visualization for facility managers, maintenance staffs.
Functional solution
Complete, integrated and flexible package for any type of hotel tailor-made
Secure IP based solution - device monitoring including status and warnings
Separate function and HMI-design for different departments - front-office, housekeeping engineering/IT and management on PC, tablet, mobile
Air conditioning, heating, cooling, lights, blinds/shutter, sensors/actuators
Energy and resource management for operator
Display of room status, DND, MUR, courtesy panel
Integrates guest rooms, common areas, surrounding
Secure guest mobile access for control GRMS in room – mySmartSuite (BYOD)
Guest room management with "mySmartSuite"
Bring your own device
Detailed overview of all rooms
Extended guest information
Check in and check out information incl. room change
Room status (make up room, do not disturb)
Message processing
Integrated with Oracle Fidelio or as stand-alone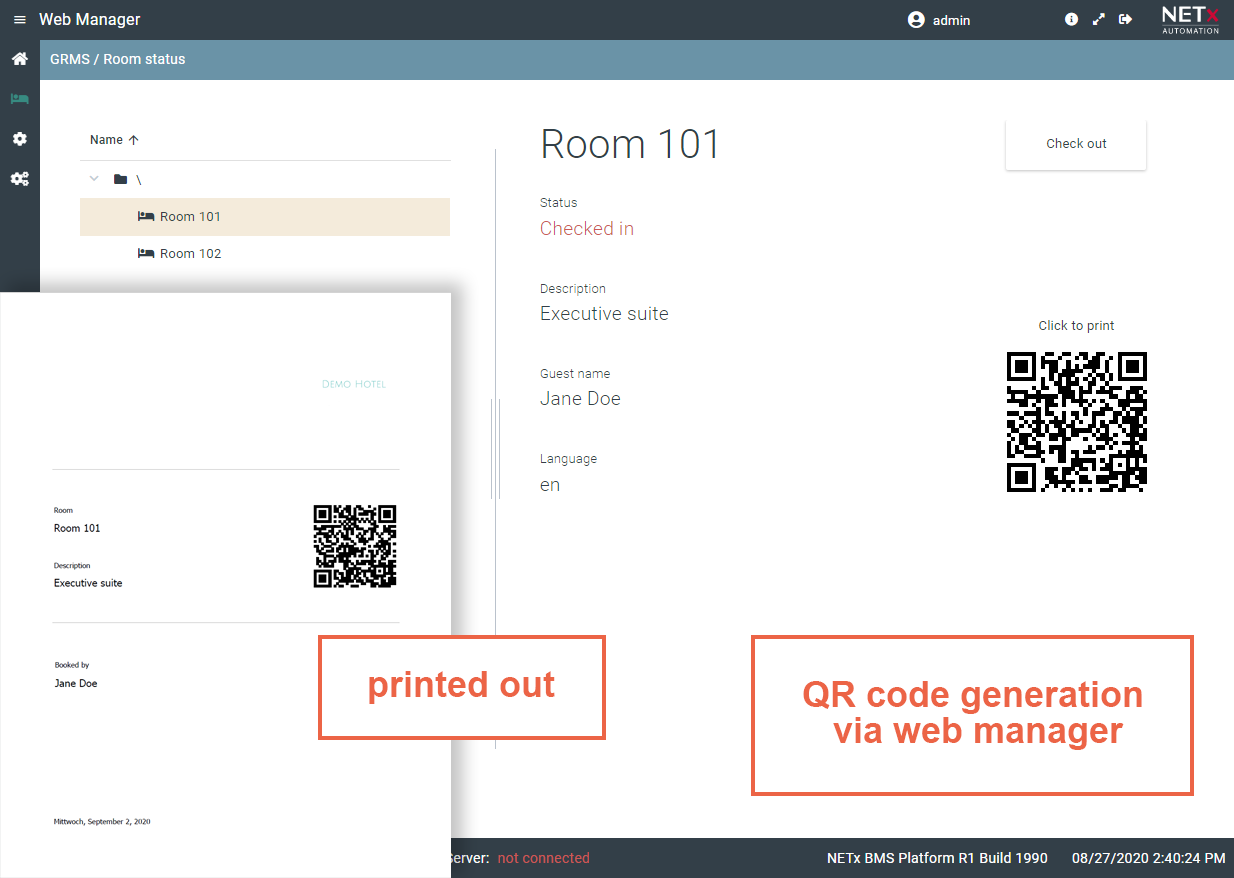 NETx mySmartSuite App - fully customized app for each room type – secure!
Room control and secure visualization
Only for the assigned hotel room
Valid only during the booked period
Available for Android and iOS
Automatically installed and configured via QR code
Control of lighting, shutters/blinds and HVAC in the room and everything else that is integrated via KNX, BACnet, Modbus, …
Fully customizable user interface (integration of corporate identity, hotel logo)
Room access QR codes are renewed for every guest
Access to room control is automatically revoked after checkout
Secure web-based visualization via SSL/TLS
Compatibility: iOS 12.1 or later / Android 5.1 or later